Discover more from Making Connections by Jax
Making connections between ideas and people, online and in real life.
Over 1,000 subscribers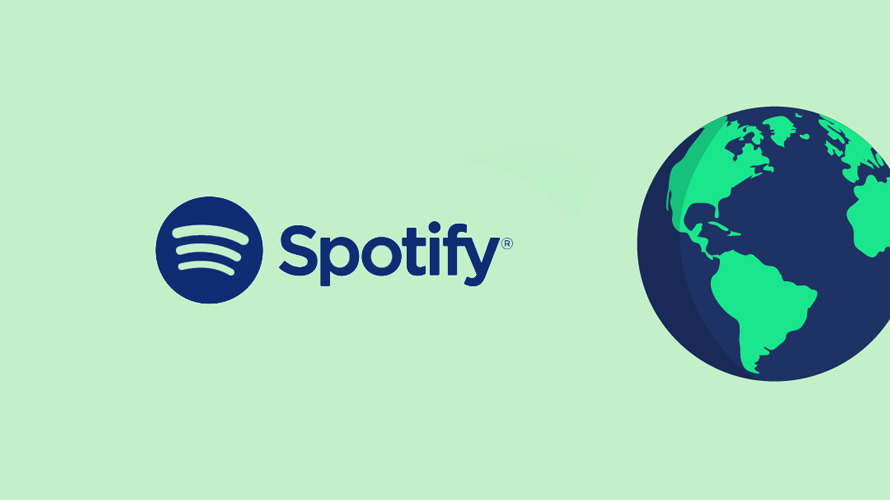 I'm not the first to write the bull case for Spotify, but I wanted to do the work on whether to invest and if I'm going to do the work, I may as well write about it.
What I found is an underestimated market opportunity, where Spotify has a unique product advantage, the potential to improve every lever of unit economics and can build in a sustainable competitive advantage. Below is my investment case for going long Spotify, even +28% y-o-y.
The Context
Spotify is a product-first company with a weak business model.
The focus and execution in product development allowed Spotify to scale despite operating a business that has neither bargaining power over suppliers (the record labels) nor buyers (due to price competition from Apple, Amazon etc).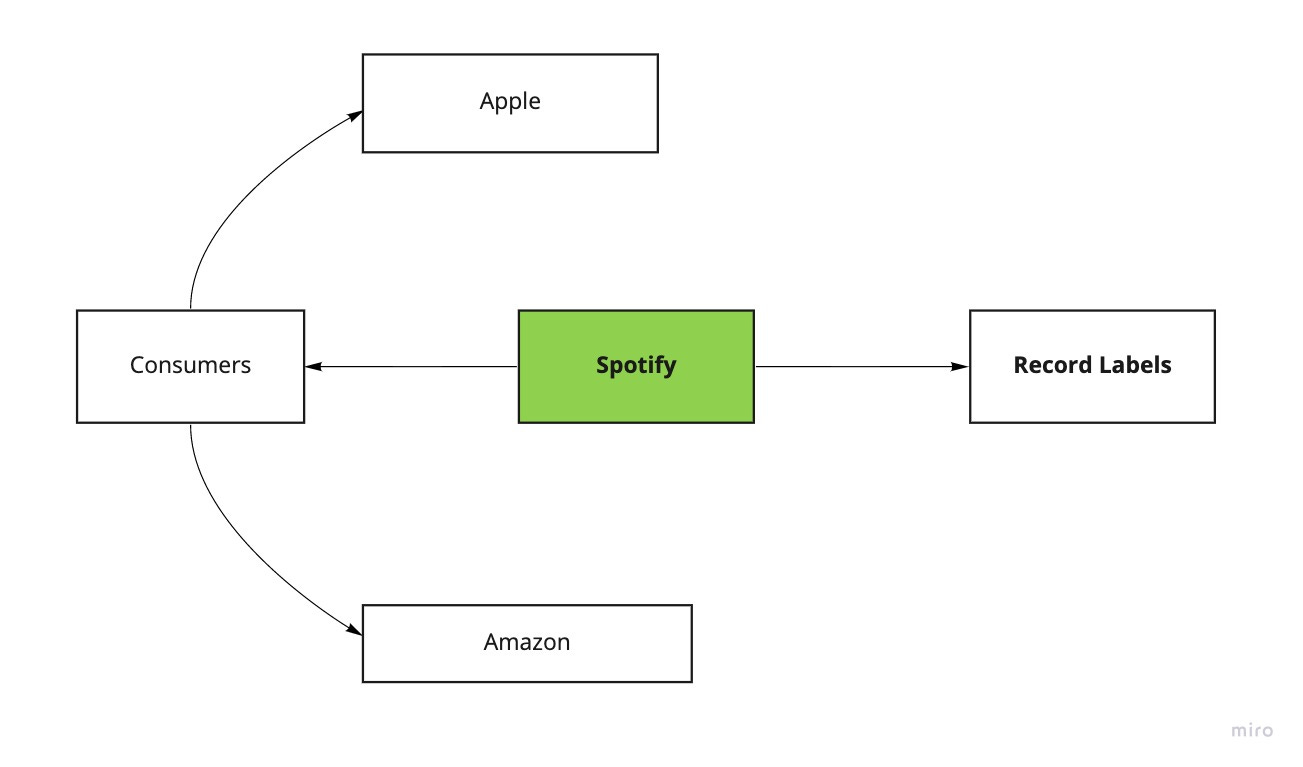 Because Spotify is unable to reduce its payouts to record labels substantially and is forced to keep prices competitive for consumers, it has a consistently low gross margin (±25%). Without the operating leverage typical of high growth tech companies, the typical argument of "grow fast until your opex as a % of revenue declines and you start generating huge cash flows" doesn't work.
Which is why when Daniel Ek noticed the rise in podcast consumption on Spotify it seeded the idea of pivoting from music into audio more broadly.
The Market Opportunity
Spotify isn't moving into podcasting, it's moving into audio. That's news, serialised shows, interviews, education and sport.
Maybe podcasting is only a $500m market today, but the commercial radio market is a $40bn revenue market globally, more than double the size of the global recorded music industry. >85% of adults in the developed world listen to radio weekly (nearly 3bn people worldwide) and each listener in the US is worth $67 annually.
And that's still underestimating the size of the market opportunity. The radio advertising market is held back because it's difficult to measure ROAS, and impossible to personalise ads. By using their vast quantity of listener streaming data, Spotify could target ads more effectively, and even add direct clickthroughs for those listening on the phone.
Obviously this requires a significant pivot for Spotify and they have to prove out the model, but early signs are good. Spotify is quickly capturing market share in podcasting — data from Germany shows that while in January 2019 Apple had 45% market share and Spotify 20%, by December Spotify was close to eclipsing Apple (34% vs 36%).
And Spotify is also converting its existing music users into broader 'audio' users - In Q1 2020 19% of Spotify MAUs engaged with podcast content, up from 16% in Q4 2019 and growing 200% y-o-y.
Why Spotify Wins
I am consistently awed by the pace of product innovation at Spotify considering its scale, everything from small UI changes that improve the listening experience to data-driven personalisation.
While Spotify started as an active, intent-driven platform to find the song you want to hear, today it is a more passive, discovery-led listening experience.
Spotify understood early that to increase conversion from free to paid they needed to increase listener engagement (time on Spotify), and so they invested in machine learning and creative talent to help surface new music that listeners love continuously. Today 31% of all listening on Spotify comes from curated or machine-generated playlists.
This understanding of the importance of both human-led curation and data-driven personalisation is what will help Spotify beat the competition in broader audio.
Data-Driven
The application of the recommendation algorithm to podcasts is yielding results quickly. While in late 2019 my recommendations were truly terrible, today they are almost perfectly in line with the content I want to discover.
They are applying the same playbook from music to podcasts — delivering new playlists in the Made For You section that already includes Discover Weekly and Daily Mixes, adding Your Daily Podcasts as well as using location data to create a mix of news and music in the Your Daily Drive playlist.
Continuing to improve the recommendation algorithm across all types of audio content will increase engagement, one of the key metrics for increasing user LTV.
The strong data capability will also help feed the Ad Insertion product that over time could become the primary advertising platform for audio content producers.
Curated
Spotify understands the importance of human-led curation, and it's easy to foresee a range of curated playlist options that increase engagement:
Joe Rogan curating a weekly playlist of his favourite podcast episodes from other creators

A Crossfit Games winner recommends their favourite fitness and nutrition audio content

The best-of Sam Harris. A selection of his ten most influential episodes
Focus
"Music is everything we do all day, all night, and that clarity is the difference between the average and the really, really good." Daniel Ek
Spotify's absolute focus on music is the reason it is retaining market share in a rapidly growing market against Apple, Amazon and Google despite their enormous cash reserves and built-in hardware advantages.
The pivot into audio is complex, and Daniel Ek's clear commitment to re-orienting the company to focus on this goal will enable Spotify to move faster and take more risks than its competitors.
By acquiring Anchor, Gimlet and The Ringer, Spotify invested in both the underlying tools for the creation of new audio content (over 60% of the 1 million podcasts on Spotify are powered by Anchor) and the creative know-how to develop compelling original content.
The Impact on Spotify's Unit Economics
Spotify has poor unit economics today and the shift into audio is designed to improve every element of the Spotify business equation.
Customer Acquisition
Spotify's customer acquisition involves adding free users into the top of the funnel, then engaging those users so much they choose to pay for the product:

The free users spread the word about Spotify and bring down CAC and the more engaged those users become, the higher the likelihood they convert into revenue.
Spotify's acquisitions of The Ringer, Parcast and Gimlet, as well as the licensing deal with Joe Rogan, will add those existing audiences as free users to the platform.
Engaging those free users means increasing the amount of time they spend on Spotify. By broadening the available audio content, and surfacing that content through intelligent data-driven and curated discovery, Spotify is betting they can increase the amount of time free users spend in the app, both increasing the amount of revenue they can generate through ads, and increasing the likelihood to upgrade to paid.
Once Spotify has a paying user, the business equation is:

ARPU
Spotify's new Ad Insertion product offers a suite of planning, measurement and reporting tools not previously available to audio advertisers.
Spotify's data advantage (location, device, age, tastes) enables them to target advertising more intelligently than any other platform and measure impact across segments, even potentially offering clickthroughs directly to products within the app for all ads, enabling a significantly higher proven ROI than is possible today.
Once the ROI is clear and measurable, advertisers will flood to the platform, vastly increasing the dollars spent annually, and with Spotify capturing a clip of every ad.
Gross Margin
Spotify is moving heavily into creating original content to improve their gross margin (as Netflix did) and the acquisitions of Gimlet, The Ringer and Parcast have brought the creative talent in-house to scale this quickly. In Q1 2020 Spotify produced 78 Originals & Exclusive podcasts globally, and we can expect to see this expand rapidly across all types of audio content.
As Spotify increases its paid user base, it can amortise its spend on original content over a higher number of users, so it can afford to spend significantly more, cementing its quality advantage over its competitors.
Churn
Spotify has already seen a measurable reduction in churn across users that listen to podcasts — in Q1 2020 Spotify reported that podcasts helped the company lower the churn rate by 80 bps annually.
By improving every element of the business equation, Spotify can improve the unit profitability of every user that starts with Spotify — increasing conversion to paid, increasing revenue, expanding gross margin and reducing churn.
The creation of Competitive Advantage
Over time, Spotify will begin to aggregate demand for audio content.
Publishers will begin to create more content with Spotify because the tools are better (Anchor, Spotify for Podcasters) and they can more effectively monetise their content through the Ad Insertion product. Perhaps they'll even go exclusive to Spotify if that means a higher cut of the ads.
The more content produced and ads generated using Spotify, the better the data Spotify can collect, helping them improve engagement and monetisation for each user.
This data will also help Spotify understand what original content to create, helping them launch the best content, driving even more users to the platform.
Eventually, Spotify could become the only place consumers go to get the best audio content, forcing publishers to accept whatever price Spotify is willing to pay.
Risks
There are many, the most obvious of which are:
Your competitors are the most successful tech companies in the world, who have enormous war chests of cash, with an in-built hardware advantage, who can use audio as a loss leader for their existing products and services. I'm comfortable with this risk because this has been the case for years now, and Spotify through focus and execution has maintained its market share in music and gained market share in podcasts from these competitors.

The podcast advertising market today is tiny ($500m annually) so you're betting that with a significantly better ad product and the expansion of podcasting to include all forms of streamed audio (news, sport, education) you can both increase the size of the podcast advertising market to look more like the radio advertising market, and use the new listening hours as a tool to convert users into paid subscribers.

Spotify is just starting a long journey, and this pivot doesn't work they're left with a bad business model that probably won't spit out free cash flow as it scales.
Valuation
Many people think Spotify is over-valued today, but if you have a long-term time horizon and think even some of the above is possible, the potential for revenue, earnings and multiple expansion allows for considerable upside.
On back of the envelope maths, in 3 years assuming 60% revenue growth, GM expansion to 35%, opex margin improving only slightly to 23%, a 15% tax rate and a 4x revenue multiple, you hit a $267 price target, 40% higher from here.
I think this pivot will take 5+ years, but once the flywheel is going….
What I'm reading/watching
The Spotify research took a while, so just one excellent article and one video to recommend this week:
The Pedal-to-the-Metal, Totally Illegal, Cross-Country Sprint for Glory
and British rapper Akala teaching African history at the Oxford Union: